At the first meeting of the Parents Association of this year 2018/2019 it was decided by those present to defer the Bingo until the other side of Christmas, for various reasons. Whether it was due to this decision alone or other factors, it proved to be a good idea going forward as the Bingo was an overwhelming success.
Bingo went ahead on Thursday night the 28th of Feb @8pm in Aghinagh Gaa Hall. The Hall was set up the night before and we were quite confident we were prepared! A large crowd poured through the doors from 7.30pm on and by starting time, the hall was packed and more tables and chairs were needed and when everyone was seated, Bingo began!
Michael Creed entertained us again this year and called the Bingo with good wit. Gary O' Brien returned to the job of the bingo "checks" and without his experience, and the support of Clondrohid Gaa Bingo, it would not be possible to run this fundraiser.
Excitement was high amongst the children's tables, as lines and houses were almost filled, all eagerly hoping for a win. With each "check" called they scanned the crowd with some disappointment when the "check" was confirmed! A win did come and the cheers from around the winning table ignited a great applause from the hall. This definitely added to the atmosphere of the night!
There were plenty cash prizes on offer with many parents and businesses sponsoring full houses for 50euro, full lines for 20euro and great raffle prizes. The Jackpot was 150euro sponsored by Kelleher Ford Dealership, Macroom and this was scooped up by Julie Carroll, who had great luck on the night taking two more bingo prizes also!! Raffle tickets were sold for a top prize of 100euro voucher for M&J Kelleher Ltd. and this was won by Margaret Lehane.
At the interval, complimentary tea/coffee & biscuits were available and a tuck shop for the children sold out very quickly. Raffle tickets were sold for the children's raffle and  general raffle and it was back to the bingo game.
Sincere thanks to all parents who supported the event, those who gave/secured sponsorship, volunteered to set up on the Wed night, volunteered on the night or participated in the game, it would not be possible to get the event off the ground without your support. Sincere thanks also to local businesses who got behind the event and we hope you can return the goodwill by supporting them. A full list of the sponsors can be viewed on this webpage.
A substantial sum of money was raised which will be used for the benefit of all our children, at what was reported to be a very enjoyable night!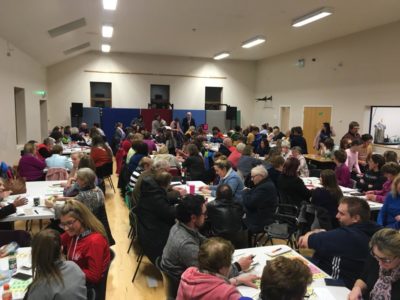 Thank You To Our Sponsors
| | |
| --- | --- |
| Kelleher's of Macroom. Authorised Ford dealership | Deirdre O'Sullivan – O'Sullivan School of Irish Dancing |
| Bank of Ireland | Michael Twomey Butchers Macroom |
| M&J Kelleher Limited, Clondrohid | Aldi Macroom |
| Deirdre O'Sullivan – O'Sullivan School of Irish Dancing | Trendy Hair, Macroom |
| Kelleher Field Service | Natures Corner, Macroom |
| Muscrai Electrical | Deasy's Pharmacy, Macroom |
| John Mac Sullivan Farm Services | The Hair Studio, Macroom |
| Dave Barry Decorators | Denis Corkery Yoga & Physical Therapy |
| Macroom Opticians | Mc Carthy Coaches, Ballyvourney |
| Castle Street Dental Practice, Macroom | Tipperary Water |